Massoth Product List → Massoth Radio Control → Massoth RC Sender
---
Massoth DiMAX RC Sender
$106.90 plus shipping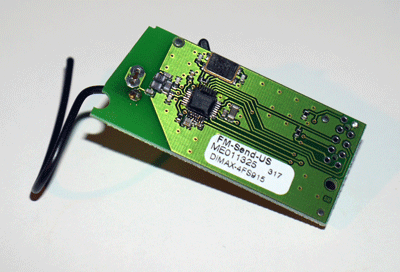 In stock for immediate delivery
Please contact us to order
Product number: 8132501
The DiMAX RC Sender allows bidirectional wireless communication between a DiMAX Navigator and the DiMAX Central station.
It can be used to retrofit a DiMAX Navigator without a factory installed RC sender.
A small Phillips screwdriver and the most basic assembly skills are all that is needed to perform the task. There are no switches to set and no programming is required.
Wireless communication requires a Massoth DiMAX RC Receiver [product number: 8132001].
Technical specifications:
Supply voltage: 3.3 V [from Navigator]
Current, max.: 50mA
Frequency range, US: 915.0 - 918.0 MHz
Transmitter power: 9.8 mW
Temperature range: -4°F to 113°F
Scope of delivery:
User's manual