Massoth Product List → Massoth Sound Decoders → Massoth XLS Sound Decoder
---
Massoth eMOTION XLS Sound Decoder
Product number: 82x0xxx
$210.00 plus shipping
Please contact us to order
In stock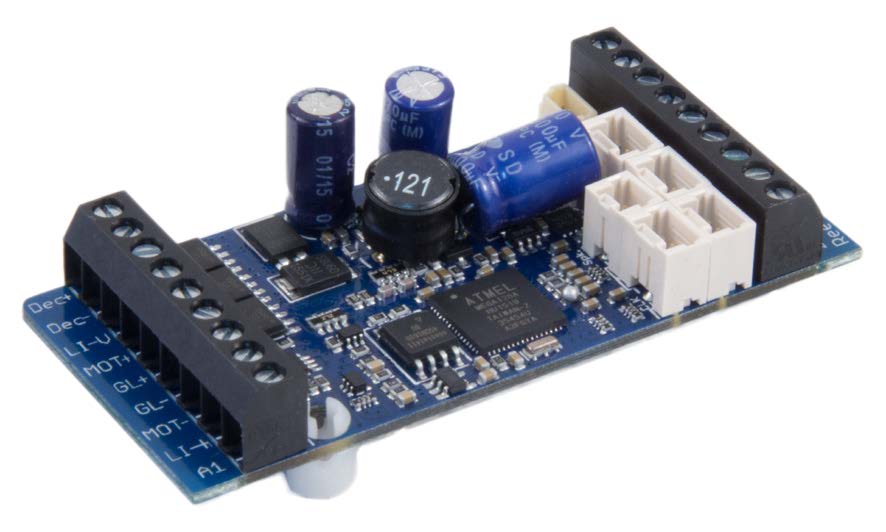 The Massoth emotion XLS decoder is a powerful 4.0Amps driving, function, and sound decoder designed for installation in G scale locomotives equipped with 1 or 2 driving motors.
The XLS features a 3.5Amps output stage for up to two motors, 3 light outputs, 8 function outputs, 4 contacts inputs, a Massoth-SUSI interface, and an integrated 3-watt high performance sound amplifier with 6 independent sound channels.
The XSL offers selectable 14/28/128 speed steps, analog and digital operation, digital and analog Back EMF, and overload-overheat protection for motor and function outputs.
The decoder holds a little over 3 minutes of high quality digital sound. It stores a locomotive's prototypical operating sounds as well as an array of additional sounds that may be configured to suit individual tastes. The integrated digital power amplifier reproduces all sounds and side noises of a locomotive authentically.
Operating the XLS decoder with an additional power buffer increases its dependability: brief track power disruptions are bridged in analog and digital operation and contaminated tracks and switch frogs are negotiated without any speed changes or interruptions.
The XLS decoder comes with an LGB® DCC interface cable to simplify installation in locomotives equipped with an LGB® DCC interface. An optional interface cable to simplify Installation in locomotives equipped with LGB® six-pin decoder interface is available (product # 8312061).
The eMOTION XLS sound decoder supports the full NMRA protocol, and is compatible with all generations of the LGB® MTS system.

Summary of Features:
Total amperage: 4.0Amps
Motor amperage: 3.5AMps
Light and function outputs amperage: 1.3Amps
Compatible with NMRA DCC and all generations of LGB® MTS systems
Serial and parallel control of all lights and function outputs, including LBG® P-sound updates
Digital and analog operation with automatic recognition
10239 Locomotive addresses
14/28/128 speed steps
256 internal speed steps
Programmable speed curve
Adjustable starting, mid, and maximum speed
Adjustable acceleration and deceleration time
Adjustable motor frequency (90Hz-16kHz)
Latest load control technology, Back-EMF, analog and digital
Switching speed activated with mappable function key
3 light outputs, 3 x 300mAmps (front, interior, and rear)
8 function outputs, 4 x 600mAmps (F1-F4), 4 X 10mAmps (F5-F8)
2 Reed contact inputs
RC servo control channel
Connection for optional power buffer
Connection for programmable pulse generation function
Massoth-SUSI interface
Light and function outputs dimmable; can be activated in analog operation
Programmable blinking lights, short-duration function, and pulse generator function
Easy to use function mapping
Free command allocation of all function outputs (F1-F16)
Rest function for all CV values
Overload protection for function outputs
Overheat protection for function outputs
Sounds and firmware updatable
Sound Features:
3 watts hi-performance amplifier for 8 Ohms speaker
6 channel play-back (6 sounds at the same time)
Memory capacity for max. 200 sec. of recorded sound
4 driving sounds, and 12 side noises, selectable
play-back frequency: 16KHz
Volume control by potentiometer or CV programming (also individual sounds)
Sound functions usable in analogue mode
Features for Mallets, Rack Rail locomotives, and Dual Powered Locomotives: (1) The XLS Decoder has 2 separate inputs for synchronizing chuffs to wheel rotation in locomotives with two steam pistons like Mallets or steam rack rail Locomotives. (2) Starting with version 2.5, you can use CV 170 to define a function key which, when pressed, will activate/deactivate the rack noise on a steam rack rail engine, or switch the sound from electric to diesel and vice versa on a dual powered locomotive.
Technical specifications
Power supply: 0-24 Volts DC/DCC
Maximum total load: 4.0Amps
Motor output: Max. 3.5Amps, 70Hz-16kHz, load controlled, digital and analog
Light outputs: Max.(3 X 300mAmps) 22V dimmable
Function outputs:(4 X 600mAmps), (4 X 10mA)
Total light and function outputs combined: Max. 1.3Amps
Loudspeaker 8 Ohms (Min. 1.5 watts)
Temperature range: -4°F to 113°F
Dimensions: 55x32x15mm
Scope of Delivery
eMOTION XLS Decoder
2 sets of LGB® motor-block connecting cables (4 pieces each)
2 screws 2.9x13 mm
2 screws 2.9X19mm
User's Manual


User's manual


Configuration manual


Recommended loudspeaker
---