Massoth Product List → Massoth Loco & Function Decoders → Massoth XXL II Locomotive Decoder
---
Massoth eMOTION XXL II Locomotive Decoder
Product number: 8153101
$104.00 plus shipping
Please contact us to order
In stock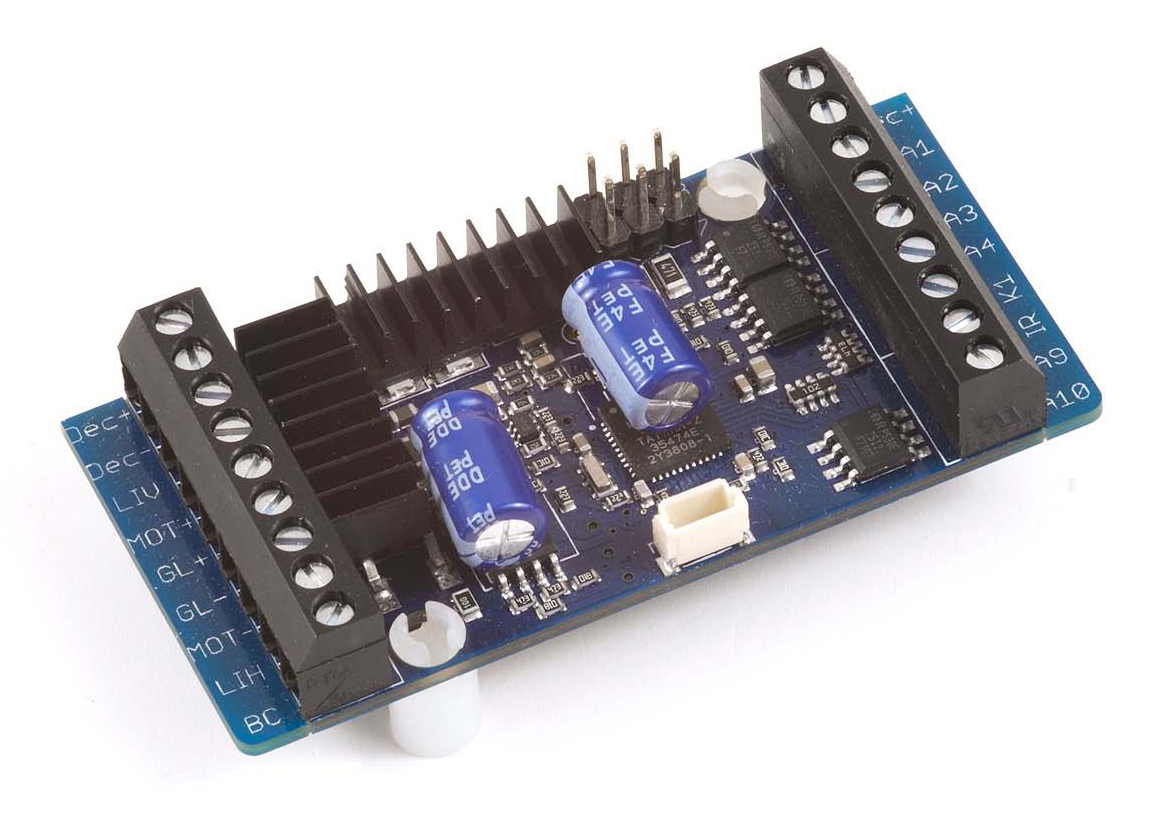 The Massoth eMOTION XXL II decoder is a small 10.0Amps driving and function decoder. It is capable of handling a continuous motor load of 6.0Amps with a peak load of 8.0Amps.
The XXL II decoder features selectable 14/28/128 speed steps, 3 light outputs and 10 function outputs with a maximum total load capacity of 2.0Amps, 1 contact input, 2 servo controls, analog and digital operation, digital and analog Back EMF, and a Massoth-SUSI interface.
Operating the XXL II decoder with an additional power buffer increases its dependability: brief track power disruptions are bridged in analog and digital operation and contaminated tracks and switch frogs are negotiated without any speed changes or interruptions.
The Massoth eMOTION XXL II decoder is fully compatible with NMRA/DCC, and compatible with all generations of the LGB® MTS system.
Summary of Features:
Total amperage: 10.0Amps
Motor amperage: 6.0Amps
Light and function outputs amperage: 2.0Amps
10239 Locomotive addresses
14/28/128 speed steps
256 internal speed steps
Programmable speed curve
Adjustable starting, middle, and maximum speed
Adjustable acceleration and deceleration time
Adjustable motor frequency (90Hz-16kHz)
Latest load control technology, Back-EMF, analog and digital
Switching speed activated with mappable function key
3 light outputs, 3 x 600mAmps (front, interior, and rear)
6 function outputs, 6 x 600mAmps(A1-A4, A9-A10)
1 reed contact inputs
Connection for power buffer
Connection for pulse generation function
2 servo control channel
Massoth-SUSI interface
Light and function outputs dimmable; can be activated in analog operation
Programmable blinking lights, short-duration function, and pulse generator function
Compatible with NMRA DCC and all generations of the LGB® MTS system
Digital and analog operation with automatic recognition
Serial and parallel control of all lights and function outputs including LGB® P-sound updates
Parallel and serial control of LGB® sound modules
Overload protection for motor and function outputs
Overheat protection for motor and function outputs
Easy to use function mapping with direction assignment
All function output are freely addressable (F1 -F16)
Rest function for all CV values
CV-read
CV-write
CV-write (bit by bit)
CV indirect programming - register programming for old digital system
CV direct register programming (CV1-CV4)
Programming-on-Main (POM)
firmware updatable
Technical specifications
Power supply: 0-24 Volts DC/DCC
Maximum total load: 10.0Amps
Motor output: Max. 6.0Amps, 70Hz-16kHz, load controlled, digital and analog
Light outputs: Max.(3 X 600mAmps) 22V dimmable
Function outputs [1-4, 9-10]: Max.(6 X 600mAmps) 22V dimmable
Total light and function outputs combined: Max. 2.0Amps
Temperature Range: -4°F to 122°F
Dimensions: 65x33x19mm
Scope of Delivery
eMOTION XXL II Decoder
2 LGB® motor block connecting cables (4 pieces each)
2 screws 2.9x13 mm
2 screws 2.9X19mm
User's Manual
Configuration Manual


User's manual


Configuration manual
---